Permanent hair removal has never felt so good
Leave your razor, wax and creams behind, because permanent hair removal never felt so good. Silky You's latest laser hair removal technology can be adjusted to each customer skin/hair type and time of year, allowing effective painless hair removal in a minimum number of sessions. Now a wider range of skin and hair types can be effectively treated across all body areas.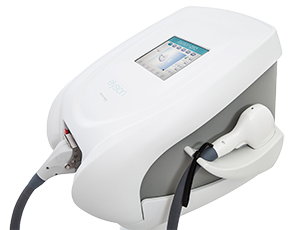 How it works
DIODE type laser equipment is the most powerful type of laser equipment used in the skin care industry, allowing more control and faster results  compared with alternative technologies such as LED and IPL.
The aim of LASER hair removal is to destroy the hair follicle so that the hair does not appear again. To achieve this result, we use a DIODE LASER capable of reaching deep into the follicle. The fine control we have over our DIODE LASER allows us to configure for best results per hair/skin type combination. The light energy applied is absorbed by the melanin and is converted into heat, destroying the follicle without affecting the surrounding tissues. The treatment is painless thanks to the cooling head used at the skin contact point, keeping a small area of skin at 6ºC so the customer feels no pain.
Our equipment has two modes, static and dynamic mode, which makes it possible to work with both high repetition and high energies combined with a very short pulse duration, and by adjusting beam strength and wavelength, hair removal is maximised using a reduced number of sessions.
755nm: effective on fair skins, enables to permanently remove the finest and less pigmented hair, including the residual hair of the last sessions
810nm: indicated to work on all skin phototypes as well as all types of hair
COMB (810+940+1060nm): guarantees maximum safety and effectiveness in dark phototypes with strong and dense hair
Silky You do not use IPL machines, which is an older slower technology.
How to book
Before we can start a laser treatment, you will need to attend a free 15 minute evaluation session, which can be booked using our web booking tool or by calling our salon directly. By understanding what you want to acheive, and assessing your skin and hair type, we can recommend an effective laser session plan.
After the evaluation session, you can then choose to book individual sessions or you can sign up for one of our multi session deals and achieve savings. Note that Silky You can treat women and men. We have women only days on Sunday, Monday and Wednesday, other days are mixed.
LIMITED OFFER : book a package of 8 sessions, receive session number 9 free!!